Commitment to Quality
Customer Satisfaction
Citizen Electronics got its start as a manufacturer of watches. We have been able to achieve our present position as one of the world's leading suppliers of precision electronic devices thanks to a clearly defined corporate emphasis on customer satisfaction. In the years ahead we will continue to work together with our customers to create an even richer relationship between people and electronics.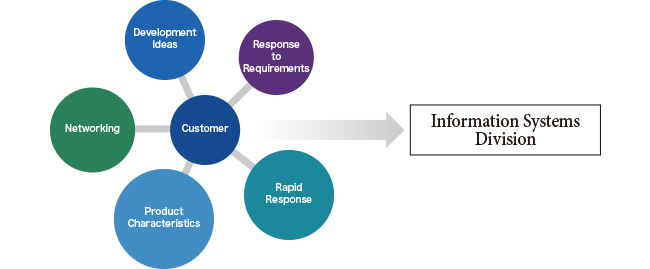 Sensibility
Striving to maintain a high degree of sensitivity to client requirements at all times
Citizen Electronics conducts a "customer satisfaction survey" once a year. To build up a responsive sense to the specific demands as well as any potential needs or expectations of customers, we inquire and analyze whether our products successfully anticipate advances in electronic devices, and the emphasis we place on the results is reflected in our daily operations.

Flexibility
Flexible development ideas made possible by proprietary technology
In order to realize the desired "shapes" in accordance with customers' requests, Citizen Electronics is presenting development ideas promptly and flexibly with our unique technology, including the collective substrate manufacturing system, which makes it possible to fabricate a preproduction prototype in a short time without using a mold, and the simulation technology which makes innovative use of the properties of light.

Global Presence
Advancing throughout the world, together with our customers
In addition to four production sites in Japan and overseas, Citizen Electronics has also established seven sales offices. We are working to expand global business activities centering on the cellular phone and LED markets while accurately meeting our customers' need for electronic devices.